HubSpot's All-In-One Marketing plugin lives up to its name. You get forms, pop-ups, and live chat all powered by the CRM platform behind the scenes. There's not much of a stronger solution on the market for this type of work. With this plugin, you can get WP and HubSpot playing nicely together in just a few clicks. Your team, your customers, and their data stay sync no matter where you're working from.
HubSpot All-in-One Marketing
Downloading and installing the HubSpot plugin is straightforward. Find it on the repo and download/activate it. At this point, a new menu item will appear to the left of your WordPress dashboard, appropriately named HubSpot. Clicking into it will prompt you to log into or create your free HubSpot account.

Creating a HubSpot account is simple (and necessary). Our guide and overview to HubSpot will go into detail about setting it up and customizing the software for your needs. Once you're logged in, assuming you're already using HubSpot, you will see a screen prompting you to select which account you want to link to this WordPress installation. If you are not using HubSpot already, you can click create a new, fresh account to accomplish the same thing.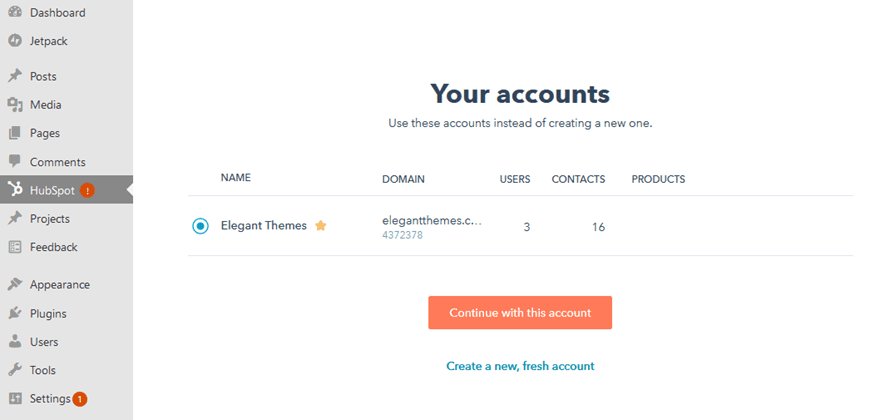 At this point, you will confirm the connection and to quote the modal, you can now use forms and live chat on your site, see your analytics in HubSpot, and manage your contacts in the CRM. Which basically means that you have the CRM in your WP dashboard. And that's great.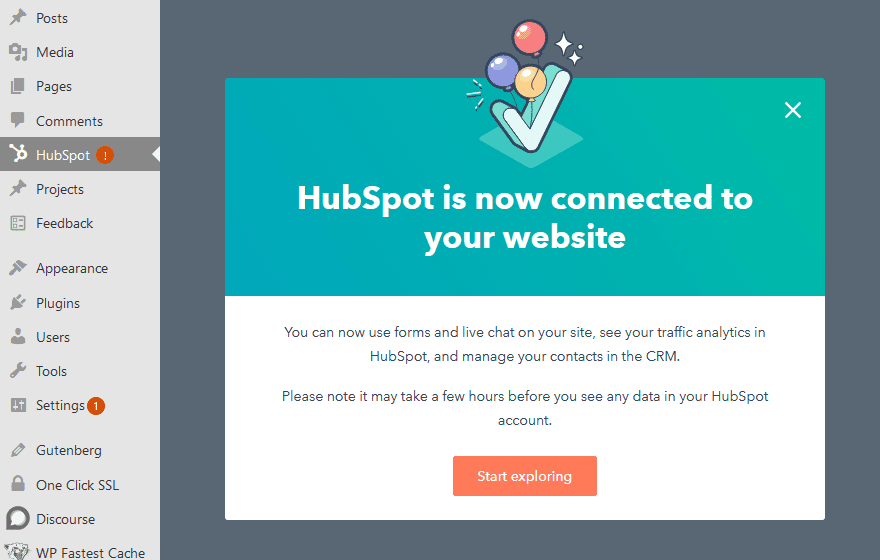 Click Start Exploring to populate the CRM into the dashboard and get the show started.
Exploring the CRM Dashboard
Immediately, the single HubSpot item expands into a full admin menu of options with a main dashboard view. It defaults to your Marketing Dashboard.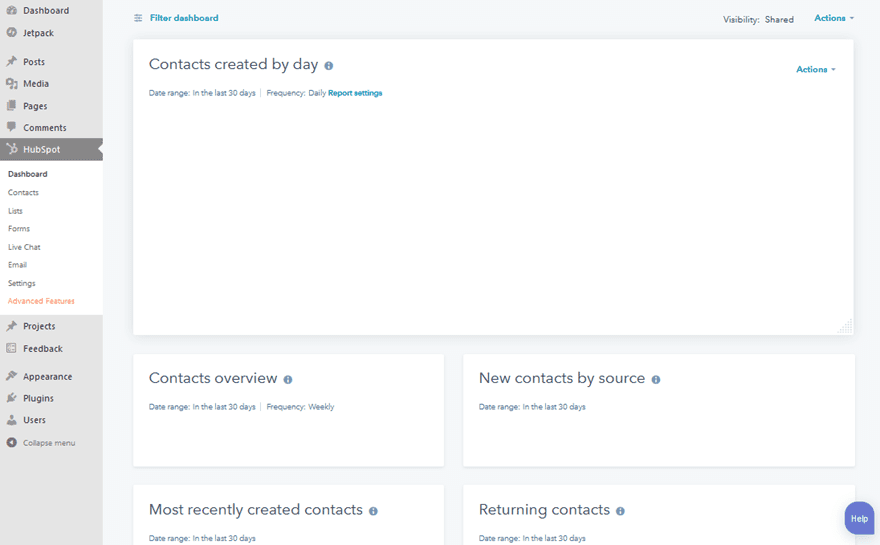 If you don't see your data here yet, don't worry. Don't panic. It can take a few hours for HubSpot to populate the WordPress plugin. But your info is still there, safely stored on their platform.
You can click the upper-right to shift between different dashboards (sales and marketing by default).

Ifyou want to create additional dashboards, you can. Doing so, however, requires an add-on for this plugin and payment. So if you're looking at keeping to the free version of the CRM, you're going to have access to only sales and marketing dashboards.
HubSpot Contacts
Your HubSpot contacts are also imported into the WP dashboard. The Contacts link in the sidebar works almost exactly like the contacts area in the HubSpot app itself.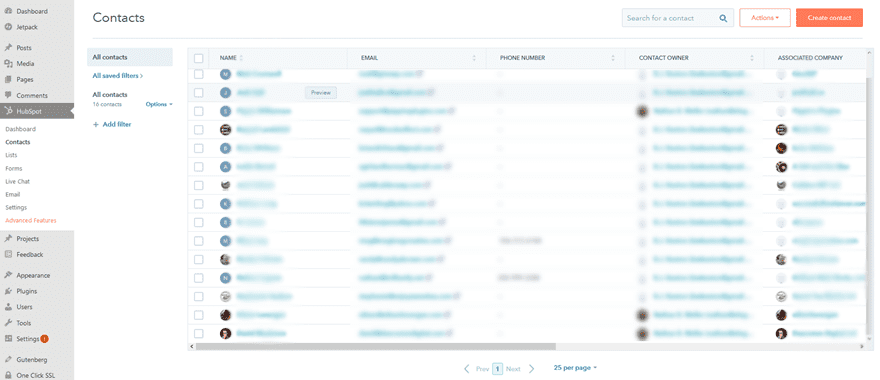 Because it's a CRM tool, your contacts are pretty much the most important element. So the Contacts tab lets you filter them out by whatever criteria is necessary to complete your tasks.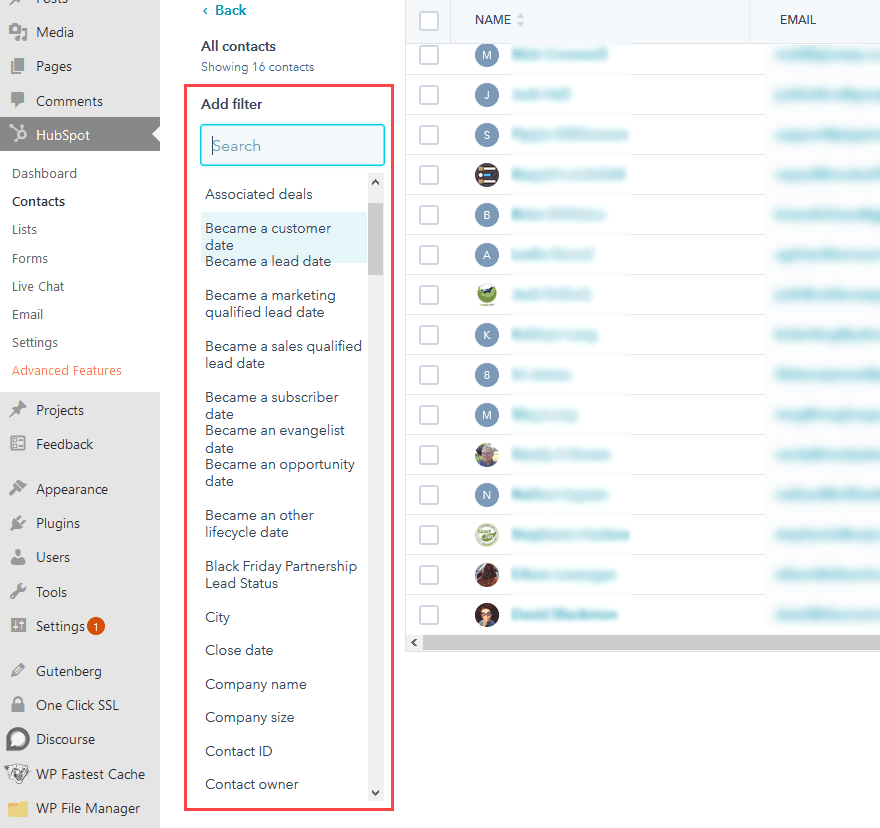 Maybe you need to know when people became customers or leads, or perhaps you need to hone your strategy for certain cities. You can do that from the back end of your website now, and that efficiency is worth its weight in gold.
HubSpot Forms
Nearly every website made with WordPress has at least one (maybe more) forms and pop-up plugins. They're standard across pretty much every industry and corner of the internet. But why you want to move away from whatever you're using and toward the HubSpot All-in-One forms and pop-ups is simple: they all get stored and cross-referenced in your HubSpot account.
Again, in terms of features that are worth their weight in gold (and in the time it takes to swap and integrate to a new system), this is at the very top of that list.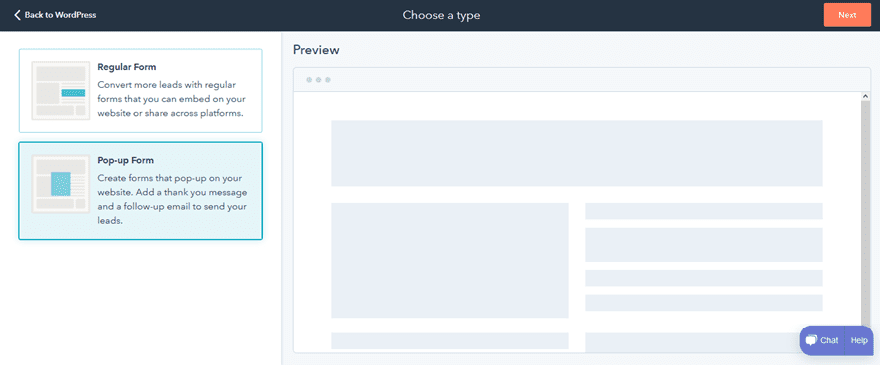 Like nearly every other forms plugin, you have a choice of the kind of form you want. Pop-up or in-line. You get to choose placement, scroll percent or time delay for appearance and so on.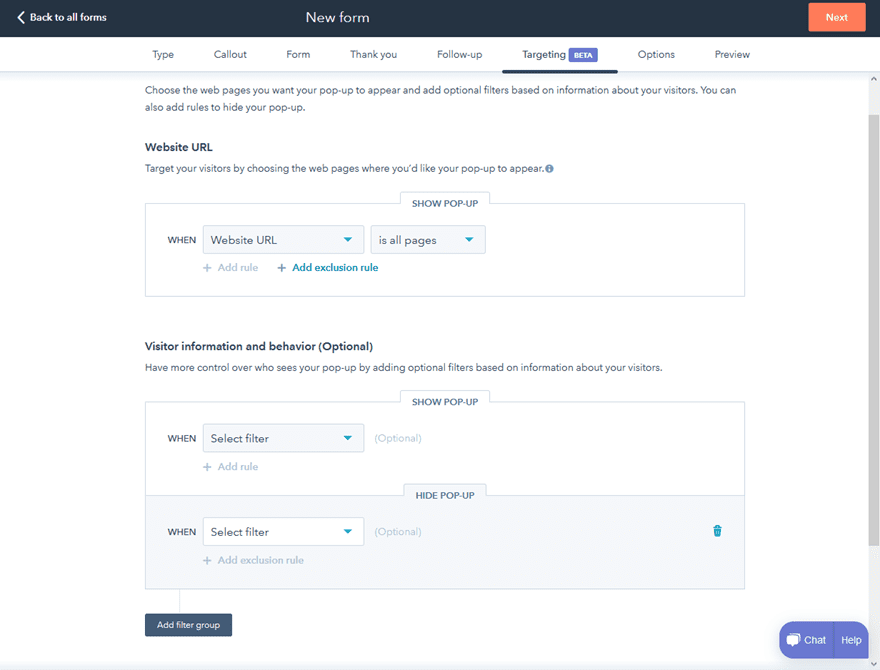 The Targeting tab is one of the most important, though. While most forms plugins have a targeting or display tab, the HubSpot All-in-One plugin is simply better. The filters you have available range from new visitor to days since last visit to SEO Topic History. And that's for displaying them and hiding them. Which means that you will have the Holy Grail of internet pop-ups: they can be so contextual that they're not obnoxious. Or at least not as obnoxious.
And as we said before, the entries and responses for these forms are stored in your HubSpot account. Not the WordPress database. That removes the step of requiring extra security and backups, as well as eliminating steps of importing and manually assigning the tasks that are handled by the forms in HubSpot. Because they're tied together via the WordPress plugin, all of that is unnecessary.
In this case, things just work.
Non-HubSpot Forms
No worries, though, if you're already so deep into the ecosystem of your forms plugin that you can't swap to a whole new set. The plugin does have options for you. Just go into the Settings menu in the sidebar and click on the Non-HubSpot Forms tab.

Simply enable HubSpot to collect data from your forms, and you can assign them to whoever you put in the email notifications box below. Unfortunately, not all WordPress forms plugins are supported (Contact Form 7, Gravity Forms, Jetpack, Ninja Forms are). You can find out if yours are supported and get your forms integrated with HubSpot in their support and documentation page.
Live Chat
Live chat is basically necessary these days for customer service. Users get frustrated with ticketing systems, email is slow and impersonal, and in general, you can set up live messaging on your WordPress site really easily using a number of plugins. We, however, do like what you can do with HubSpot because, again, it integrates with the workflows for assignments and lead generation and support that's built into the CRM dashboard.
Clicking Live Chat in the sidebar actually opens a new tab to the HubSpot app where you can create what they call chatflows.

An administrator on your account actually has to be the one to create the flow (which is where you set how the chat information gets directed, labeled, and assigned). However, once that is set up, it integrates and appears on your website just like the pop-up forms would.
Wrapping Up
If you are already a HubSpot user who has a WordPress site, installing the All-in-One plugin is a no-brainer. Any tool that simplifies your workflow and increases efficiency is worth the time and energy invested. If you are not already a HubSpot user, it's definitely worth considering if the CRM is right for you, and if it is, the same advice applies. Install this plugin. It makes WordPress and HubSpot work so well together that you'd think (for the most part) they're natively tied to one another.
What do you use to connect your WordPress sites with HubSpot?
Article featured image by nunastock / shutterstock.com
The post How to Integrate HubSpot with WordPress appeared first on Elegant Themes Blog.