Sending emails to your fans, followers, and leads is invaluable. You need to be able to contact your audience after they've left your site, so you need the best email marketing service you can get. Whether you've just published a new blog post, launched a new service, or you're promoting a new product, your email list will give you a way to announce it to your audience and drive traffic back to your site.
What Features Do You Need?
The best email marketing services range from tools that allow your website visitors to sign up to your list to receive any emails you send out to them, all the way through to full-blown, enterprise-level marketing automation software.
Standard features that most platforms offer include creating multiple lists and segments of subscribers, automatically delivering lead magnets and emails to new subscribers, creating autoresponder emails that are sent based on preset criteria, drip campaigns, and tracking and reporting dozens of metrics on your audience. Most email marketing services also let you set up feeds for newly published articles as an automation. This is a feature bloggers and content creators find very necessary.
The first thing to do is determine what level of product you need. Do you need an enterprise-level platform for thousands of customers? Or do you need a simple one just to send new blog posts? Maybe just occasional newsletter updates? Maybe something in between.
Either way, there are plenty of options tailored just for your needs.
Free or Premium
After you've figured out (roughly) the level of service and features you need, the next most important step is determining your budget. As with most things, the more features and bells and whistles you opt for, the more you will be paying. Each email marketing service has its own set of features within however many pricing tiers they have.
You can have success with either, significantly increasing your ROI. But your gameplan and workflow will change depending on whether you choose a free email marketing service or a paid one.
Top Email Marketing Services
Mailchimp
Mailchimp is one of the most notable free email marketing services out there. You see their ads everywhere, and you most likely get emails from someone using them every day. That's because Mailchimp is powerful.
At the free tier, users get everything they need to start.
7 marketing channels
1-click automations
basic templates
marketing CRM
behavioral targeting
With that alone, you can run an incredibly successful email marketing campaign. As long as you don't have more than 2,000 contacts. If your list grows beyond that 2,000, then you will need to upgrade to their Essentials ($9.99 per month) or Standard (14.99 per month) package, which offer 50,000/100,000 contacts respectively. Additionally, you get features like A/B testing, custom branding, event-based automation, and retargeting ads in those tiers.
Not to mention, because Mailchimp is one of the top email marketing services out there, it has tons of integrations, too. From WordPress plugins to native apps and Zapier zaps. Mailchimp is ubiquitous enough to be everywhere you probably already are.
Price: free with paid options starting at $9.99 | More information
MailerLite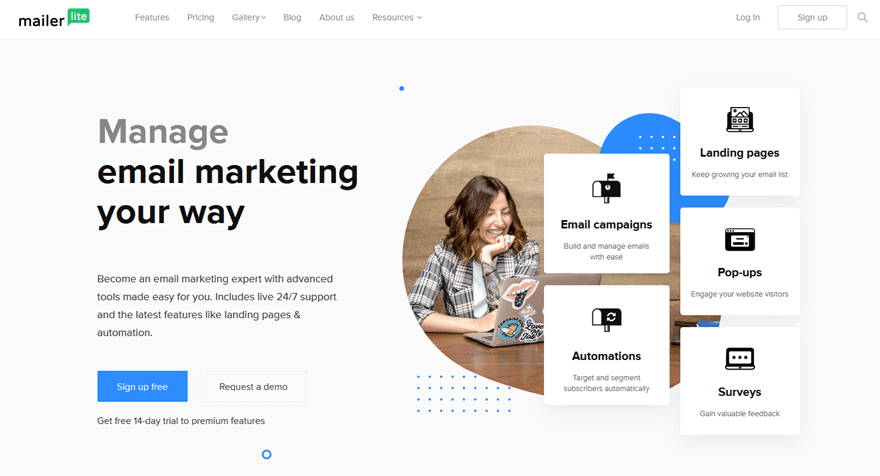 Not quite as ubiquitous as Mailchimp, but just as powerful, MailerLite is another great option for those looking at starting with a strong set of free features and upgrading to a premium plan as needed.
MailerLite does only provide free access for lists up to 1,000 contacts. But they have slightly more robust features available within that tier. Here are the big inclusions that MailerLite gives you.
A/B testing
event-based automation
advanced segmentation
surveys
email support
We mention email support specifically because with Mailchimp, free users don't have access to the support team at all. There is an exception to that. New free accounts get a 30-day window for support. Keep in mind, too, that having actual access to a support team for an email marketing service is incredibly important.
Price: free with paid options starting at $10 per month | More information
Emma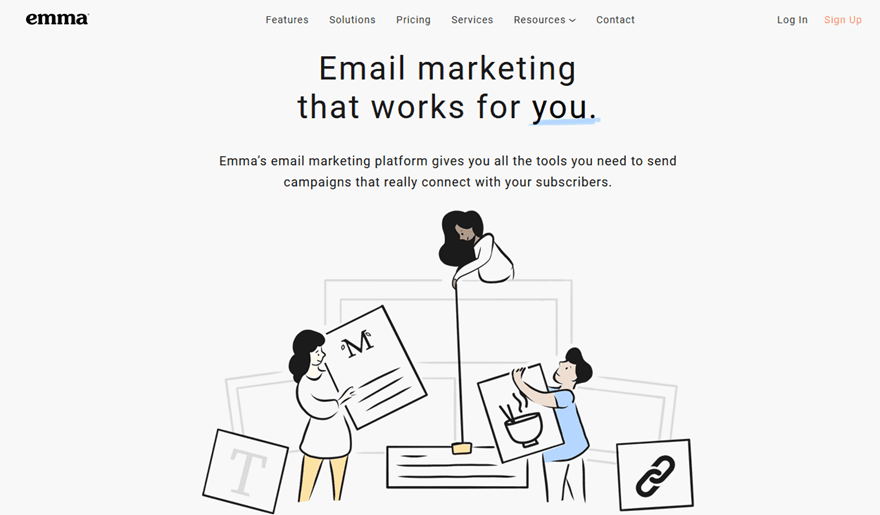 Emma is, from the very start, a premium product aimed at businesses and agencies. They do not offer a free plan, though you can sign up for a demo of the platform on their pricing page. The smallest plan at Emma starts at $89 per month for 10,000 contacts. They do not require an annual contract, either, unlike some premium-only products out there. You do get what you pay for, however, and the interface with Emma is as smooth as butter, and the drag-and-drop email builder is probably the slickest and easiest we've used.
Features that make Emma stand out from the crowd:
drag-and-drop editor
real-time analytics
A/B testing
advanced segmentation tools and rules
dynamic content (unique content per subscriber in a single email campaign)
email and phone support
In our experience with Emma phone support, issues have been solved painlessly (as much as issues with your email service can be painless) and efficiently.And having dynamic content in an email is simply amazing. It saves lots of time not to have to personalize and customize dozens, hundreds, or thousands of emails.
On the downside, though, Emma only offers 1 automation workflow for their lowest tier. For $89, we would expect to be able to run more than one automation. Especially since the list caps out at 10,000 and the segmentation tools are available at that tier.
Price: $89 per month and up | More information
Aweber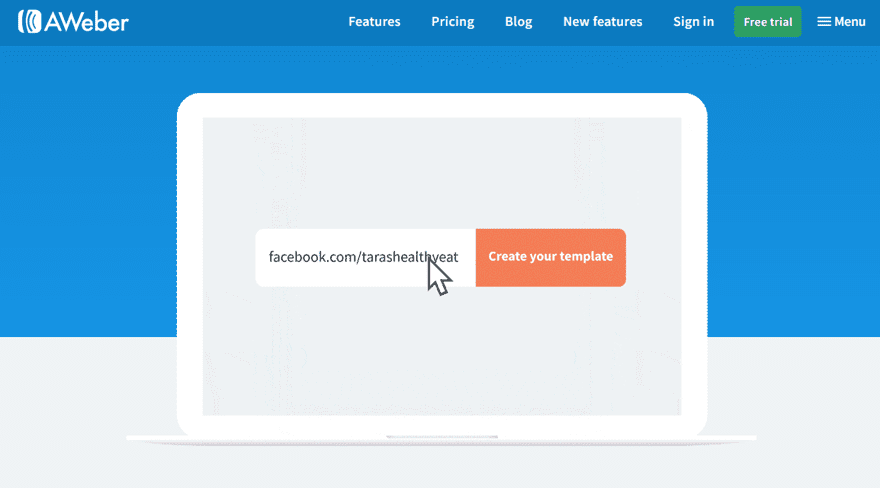 Aweber is kind of the industry standard of email marketing services. They are a top-notch, premium service that starts at $19 per month for 500 contacts to whom you can send unlimited emails. Aweber integrates with nearly every kind of external platform available, from WordPress to PayPal to Shopify and Zapier and on and on. You are hard-pressed to find a platform that offers integrations that doesn't have Aweber. If that's important to you, then check them out.
For the standard $19 per month, you get quite a lot.
unlimited emails
image hosting
stock photo library
unlimited automations
segmenting tools
It's honestly hard to go wrong with Aweber, but the biggest detractor to their service is the limit of 500 subscribers at their lowest paid tier. That is a very low cap that is quintupled at the next tier, $29 for 2,500 subscribers.
Price: $19 per month and up | More information
Constant Contact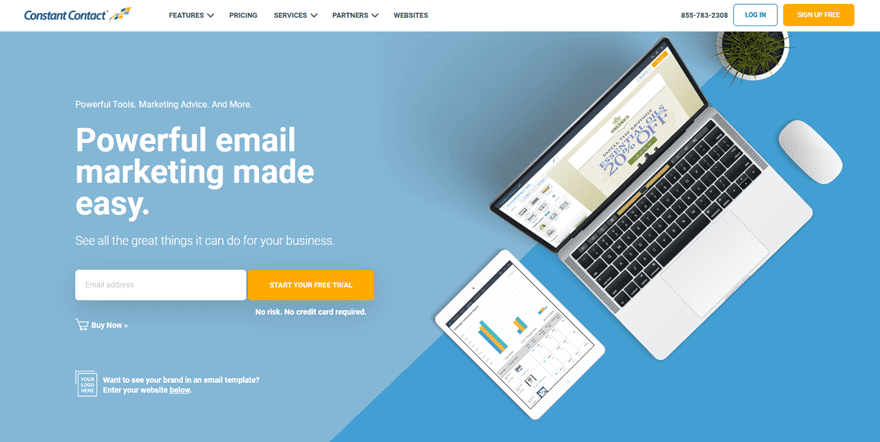 Constant Contact is a premium service that specializes in ecommerce integration and ad platforms. That doesn't mean it doesn't hold up in other areas (it does), but it has additional tools for ecommerce users that other platforms don't.
WooCommerce extension integration
Shopify automated abandoned cart emails
Instagram and Facebook ads
Google ads
online donations
coupons
event RSVP
Like Aweber, Constant Contact starts with its $20 plan being up to 500 subscribers, and when you move up to the 2,500 maximum, the price moves up to $45 per month. (Or from $45 to $70 if you're on their Email Plus plan). You can, however, try Constant Contact on a trial basis. You can sign up without even having to put in a credit card, so you have no worry of forgetting to cancel and being charged if it's not for you.
Price: $20 per month and up | More information
Drip

Drip is another ecommerce-based email marketing service. Though technically, Drip is even more than that. It's a full-fledged CRM platform, which means you get a ton of extra marketing tools that make lead generation, segmentation, assignment, and workflow creation much smoother than if you were in an email-only system.
The support system from Drip is top-notch. You have access to webinars and API guides, as well as live chat with the support team. If you run into any issues with the service at all, you'll have both self-service and professional support anytime you need it. (That includes a guided demo of the software, too.)
incredibly robust drip campaigns (obviously)
personal customization even though bulk campaigns
personalized social contact and recommendations, including Instagram
third-party integrations abound
SMS contact in addition to email
workflow split testing
There is no free tier of Drip anymore, unfortunately. However, they do offer a 14-day free trail. They price based on the number of contacts you have, with their basic plan topping out at 2,500.
Price: $49 per month and up | More information
ConvertKit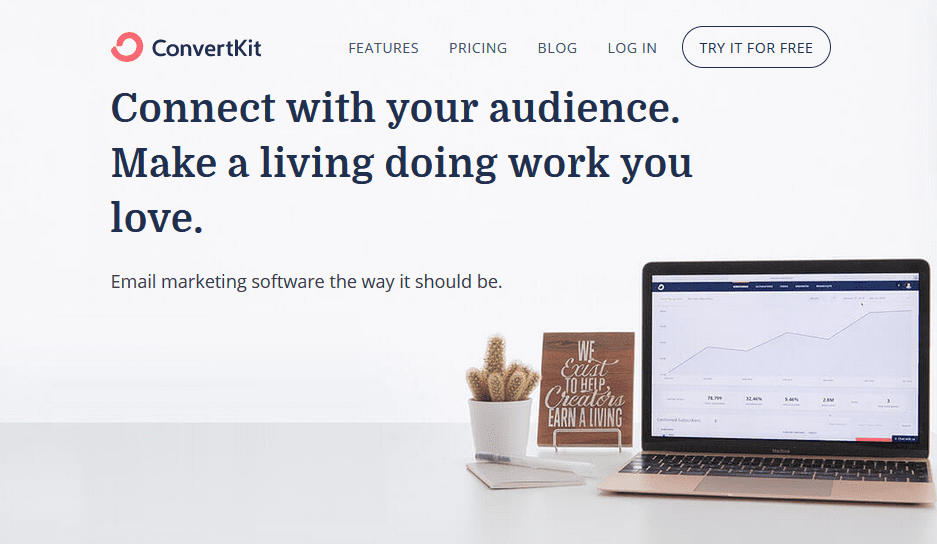 If you're a content creator or blogger looking for a top-tier email marketing service, ConvertKit should be your next stop. ConvertKit has been designed from the ground up with creators in mind. Whether you're a freelancer, hobby blogger, author, video maker, podcaster, or anything in between, this may be for you.
Most email solutions are (naturally) targeted toward marketers. They are, after all, pieces of marketing software. However, content creators aren't necessarily marketers, despite having many of the same responsibilities.
That's where ConvertKit fits into your business.
set up drip campaigns
segment users based on purchase history and lead funnel
personalize campaigns to interests
search, organize, and manipulate your contact list
analyze multiple reports via different metrics
join the ConvertKit Slack community for official support and community engagement
reach out to support by email and live chat, too
utilize automated (and concierge) switching from other platforms
integrate your emails with services you already use for giving webinars, accepting payment, task automation, doing giveaways, and more.
ConvertKit doesn't offer a free plan.There is, however, a free trial. Pricing starts at $29 per month for up to 1,000 contacts and unlimited email sends.
Overall, ConvertKit is one of the most user-friendly and approachable email marketing services out there. While it's designed for content creators, anyone can get use out of it and benefit from its simplicity and straightforward power.
Price: $29 per month and up | More information
Campaign Monitor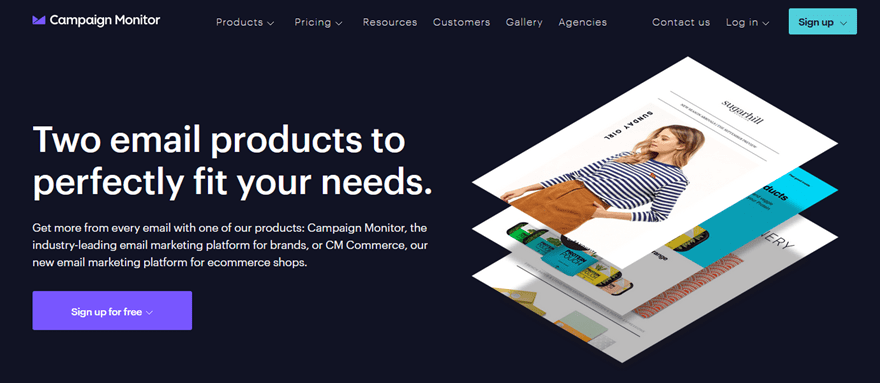 Campaign Monitor is easy. While every email marketing service is going to be focused on conversion and results, Campaign Monitor is much like Emma above: focused on ease-of-use and beauty to get those conversions and results. How do we know that specifically? Well, first, they offer a drag-and-drop editor with hundreds of customizable templates for users. Second, their header menu has a link to a curated gallery of "the mist inspiring and effective email marketing campaigns" from the platform.
While other platforms have great templates and UX, Campaign Monitor goes the extra mile and focuses on the UX of your audience, just as much as yours. On top of that, you get a slew of useful features that set Campaign Monitor apart.
smart segments based on behavior, interests, and other metrics
personalization of those segments
elegant opt-ins
full analytics suite
integration with hundreds of apps and platforms such as Shopify, WordPress, Facebook, and SalesForce
inbox preview testing across multiple platforms and apps
countdown timers unique to each individual instance of an email
pre-built segments
unlimited emails and unlimited contacts
On top of that, if you're not already using a service such as HubSpot or another CRM, Campaign Monitor has a companion CRM product called CM Commerce that ties directly into the email marketing system. It's a full ecommerce backend/marketing solution in itself, tying into whatever you use already. You can send follow-up emails, newsletters, abandoned cart emails, upsell modules in receipts, and so on. It's very powerful, and it's focused on the same things that the email side is.
Price: $9 per month for Basic plan, increasing with additional features and tiers | More information
SendinBlue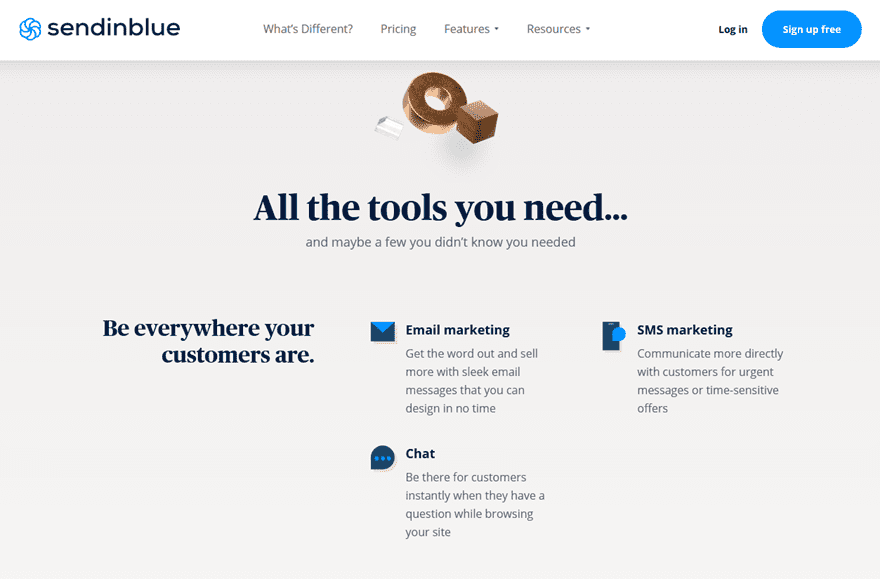 Not just an email marketing service, SendinBlue is a fully operational digital marketing suite. You get live chat, SMS messaging, email service, and a full marketing CRM. They are an email marketing service, but that's not all. As a free user, you can send 300 emails per day to unlimited contacts.
Even as a free member, you can access their pay-as-you go services. SMS messaging in general is pay-as-you-go add-on that changes price based on your country. As an example, you can send 500 SMS text messages in the United States for 5.00€. Users can also use this method for emails, too. If you want to bank 5,000 emails as a one-time payment, you can. It will cost you $40 USD, and then you won't have a recurring fee. It is probably more financially sound to just upgrade for a month (40k emails for $25 on the Lite plan). But if you have a one-time campaign or need to save them up, there is that option.
Overall, SendinBlue offers a lot for very reasonable prices.
free plan with pay-as-you-go options
mobile-friendly designer
Facebook ads
Full data-based CRM
builder for email conversion landing pages
SMTP for transactional emails (used to send receipts, invoices, confirmations, etc. from your own site)
Overall, SendinBlue is just a solid choice. It's easy enough for beginners to get in, set up, and start sending out emails. However, it's powerful enough for enterprise clients to manage million-dollar-plus campaigns.
Price: free for 300 emails per day, $25 and up for paid tiers | More information
Mad Mimi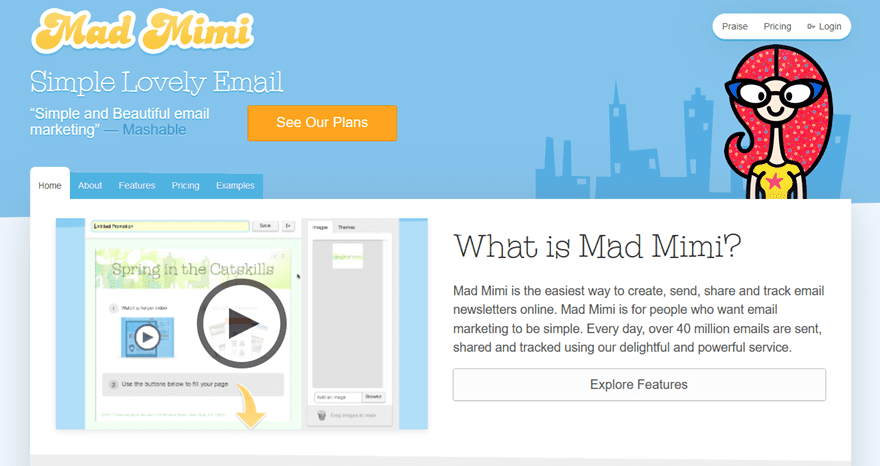 Mad Mimi is an email service. That's probably pretty obvious. But the creators didn't want it to be more than that. The About page for the company says that "built Mad Mimi 100% from the ground up with [. . .] no unnecessary features," which in turn makes it "the world's most sensible, enjoyable email marketing tool."
Yes, that's absolutely marketing rhetoric, the basic idea there is one that nearly everyone can get behind. They aren't charging us for stuff we don't want, need, or use.
What you do get with Mad Mimi, though, is what you do want, need, and will use.
quick, easy, and pretty email creation
list management with segments and groups
analytics, reporting, and user behavior
secure delivery for spam folder evasion
service integrations via add-ons
The add-ons you can extend Mad Mimi with are very impressive. They range from Zoho CRM to Facebook signup to your list. Plus, you get drip campaigns, RSS to email, mailer APIs, Google Analytics, Etsy, Freshbooks, Salesforce, and more.
Price: $10 per month for 500 contacts and unlimited sends, price increases for more contacts | More information
ActiveCampaign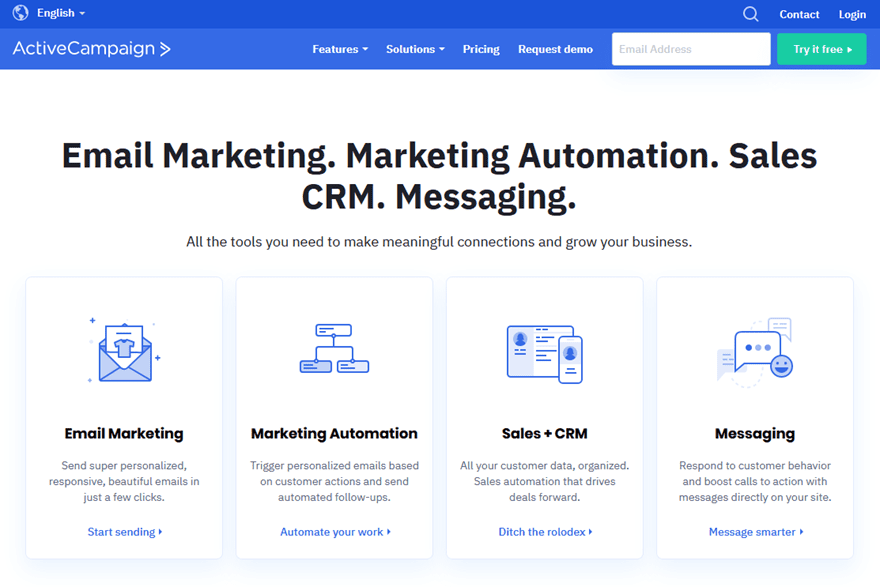 ActiveCampaign, simply put, is one of the most robust email marketing systems out there. They offer email marketing, automation, a CRM platform for both marketing and sales, as well as a live messaging system for your customer support. In terms of reaching your customers (and being reached by them), ActiveCampaign puts some fantastic tools at your disposal.
broadcast emails, triggered emails, and email funnels
custom templates for drag-and-drop building
split testing
logic-based sending rules
easy-to-understand and use personalization tags, variables, and logic
timing rules for autoresponse
advanced conditionals for semail sending
visual builder for automation flowcharts
SMS targeting
Facebook custom audiences for ads
One of the most interesting features that ActiveCampaign has is their Predictive Sending feature. Enable machine learning, and ActiveCampaign will learn the best times to send emails and messages to your lists and individual contacts, and you will have a data-driven automation that generates higher engagement. It's in use with their Win Prediction system as well, which helps prioritize the best leads for your sales team so they can prioritize their efforts on closing deals rather than following leads that go nowhere.
Price: $9 per month (annually) and up for based on tier | More information
HubSpot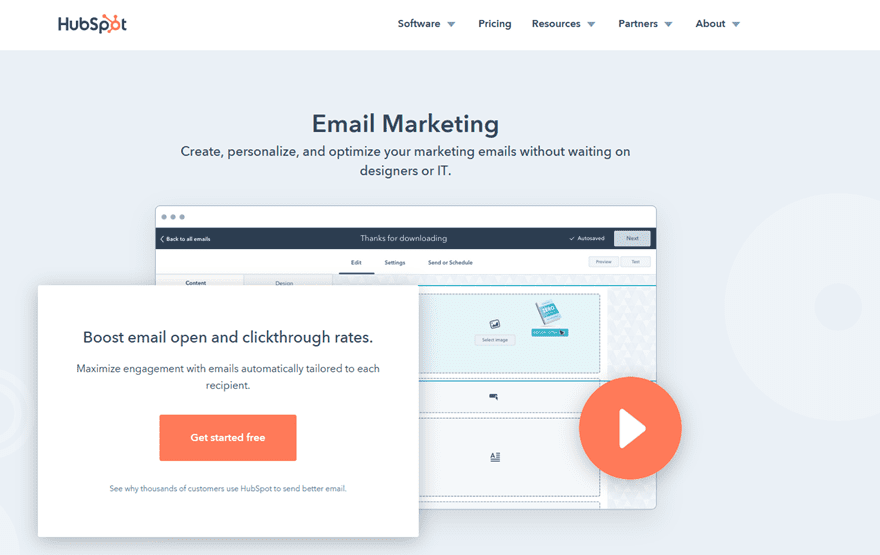 Rounding out our list is the 800-pound gorilla HubSpot. When it comes to email marketing services, CRMs, and data management, HubSpot sits at or near the top of everyone's list. (It's only at the bottom of this one because it's unranked.) HubSpot is at its core a CRM platform, which means that you use it to nurture a relationship with your customers. Their email service aims to do the same thing.
You get lots of personalization options, sleek and modern designs that are easily customized, and detailed analytics along with A/B tests and behavior tracking. The HubSpot email service is a free part of the HubSpot CRM. But just because it is part of a larger platform doesn't mean it is a side-project or even a neglected feature. It's not. Email is the heart of the CRM, and being able to access these tools entirely for free is a boon to just about every marketer.
opt-in forms
contact analysis and behavior
social media ads, including Facebook, LinkedIn, and Instagram
live chat for additional messaging options
traffic conversion analytics
personalization for different devices and countries
preview for specific devices or email clients
reliable deliverability
analytics down to a single lead
Price: free | More information
Who Should Choose Which Email Marketing Service?
In our minds, each email marketing service we've talked about has a specific demographic of user in mind.
Wrapping Up
Even though it might seem like a simple choice when you first start, the number of options out there can quickly complicate matters. However, if you consider what you need and what you can pay, the choices narrow themselves rather quickly. So whether you need a free plan with lots of subscribers or a paid plan with not so many, there's an email marketing service out there to do exactly what you need.
What helped you choose your email marketing service?
Article featured image by Tetiana Yurchenko / shutterstock.com
The post How to Choose the Best Email Marketing Services for Your Business appeared first on Elegant Themes Blog.